Vintage Altenburg-Stralsunder W. Germany Bakelite PLAQUE chip set, Made In Italy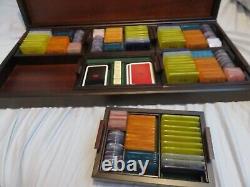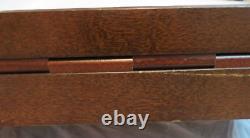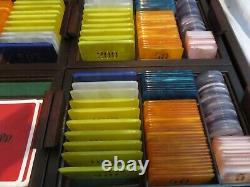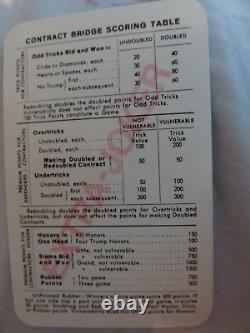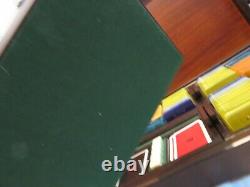 Please ask any questions you may have. Vintage casino plaque set in colorful, durable bakelite, 5-player individual chip dividers, Italian-made Rosewood-veneer case with some small scuffs due to age. Mfr is Altenburg-Stralsunder and was made prior to West Germany being divided from East and sticker inside case indicates MADE IN ITALY. So it is a mystery if it is German or Italian in origin.
The chips are in very good vintage condition, with minor surface scratches consistent with age and use. The cabinet is also in very good vintage condition, showing light wear. The entire set seems old but very lightly used. Set contains 2 original deck of cards (one sealed, other contains all 52 cards and 2 Jokers), 5 original bridge dice, a pen holder space and 6 individual wooden chip carriers for each of up to 5 players to use (one carrier contains cards and dice and no plaques/chips). The entire set weighs more than 35 pounds.
A green felt base is on each of 6 inserts and a brown felt base is on the main case itself. Case measurements are 26" x 13" x 3. There are approximately 400 chips in total. The chip denominations are as follows. I've done all of the research myself and have done the best i can using the internet. This is a treasure for anyone who values vintage European casino culture. I hope i have priced it fairly.
---