SLOWPLAY Nash 14 Gram Clay Poker Chips Set for Texas Hold'Em 300 PCS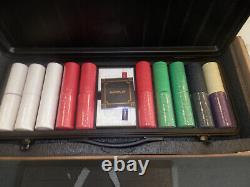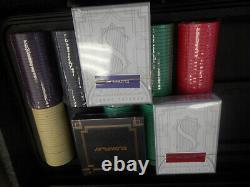 Nash Ceramic Poker chips set (previously known as Aces poker chips set) is a high-end product series built for players who require a higher-quality feel for chips. The unique artistry and exquisite craftsmanship make it an exclusive poker gift for advanced players. Chip Carrying Case: We're re-defining what a good case should look like. The outer shell is made of German Bayer Polycarbonate material, crafted from one-piece injection molding, making it extremely durable.
It also includes a custom aluminum alloy frame, zinc alloy lock, and large handle. The hand-made chips feature inner support, and PU leather packaging materials. Super portable with full-body black material.
Chips: Exquisite craftsmanship, free play, 12 grams in weight. The design of the chip pattern is inspired by the Art Deco art style of the early 20th century. The streamlined lines and simple geometric composition perfectly combine the grandeur of the roaring 1920s and contemporary simplicity to elevate the poker experience to a new level. Quantity Ratio: Based on the actual usage ratio of the number of chips, the 300-chip set can meet the needs of a 7-8 person game, and 500 chips easily meet the needs for 9-10 people. The diameter for each chip is 43mm. All poker sets include: 2 decks of SLOWPLAY plastic playing cards and 1 dealer. We do not provide small blind and big blind button.
---